The wheel, i.e., any circular object intended for motion or moving, works because the rolling resistance is generally lower than the corresponding kinetic friction. In the 19th century, many came up with the idea of combining the wheel and pedalling, but it was not until Baron Karl von Drais patented his "running machine" that it was possible to state that the modern bicycle had been created. In 2020, about fifty years after hippies in California invented mountain biking when they (intentionally) drove their bikes into the forest, Chemigate Process Operator Harri Vainionpää acquired his first mountain bike. And now, on a beautiful June day, we get to see just how "easy" it is to combat the rolling resistance.
---
Harri had had a bike before, of course. Road cycling used to be right up Harri's alley, and rumour has it that his former Peugeot bike, which meets competition specifications, is near Turku and still within the Chemigate family. With this series, I have noticed that people tend to get a bit serious when talking about their interests and this also holds true in this case. Harri talks about cycling calmly and knowledgeably, but does not try to brag. (Ostrobothnians tend to show off, but Harri does not do that either.) He has his two bikes out in the garden. The Kona mountain bike is the one that ignited his enthusiasm in April last year. In just a couple of months, the odometer reading was 1,000 km. The bike in question is of high quality but is nowhere near the top of the price range. The bike standing next to it is a brand-new fatbike with a dropper seat post, weighing so little that it could almost be taken on board a plane as hand luggage. So, the Kona is of high quality, but not sexy – your Volkswagen of mountain bikes – but this other one is like the Range Rover of bikes.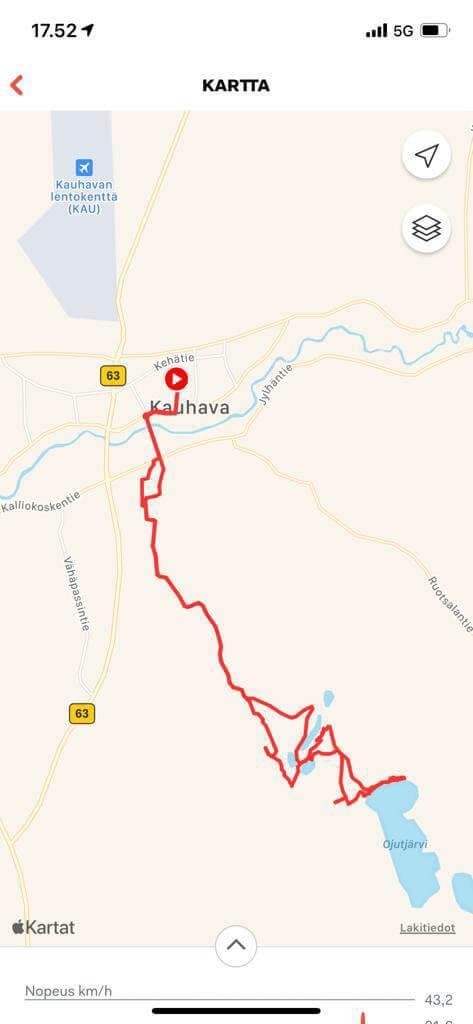 We start out by slowly cycling through Kauhava city centre. The weather is most agreeable, and I lull myself into believing that maybe this will all be good. I am brought back to earth when Harri says: "The guys said not to let Schauman get off too easy." Okay, I should have thought as much.
However, the journey continues calmly, and Harri's face and voice reflect a state of serenity when he explains why he enjoys mountain biking so much. "At the very beginning, I was offered a cup of coffee at a lean-to along my route. No one offers you campfire coffee when cycling on the highway."
The intention is to head to Lake Ojutjärvi, but along the way we make a detour to the Sorvari sand pit to try some slightly more technical [cycling jargon for 'challenging'] routes.
I kept up pretty well when we were cycling along gravel roads, but at the sand pit I started to lose points, with one foot touching the ground repeatedly. Harri moved with the greatest of ease in increasingly difficult conditions. While he is like a fish in water, I am more like a fish on a bicycle.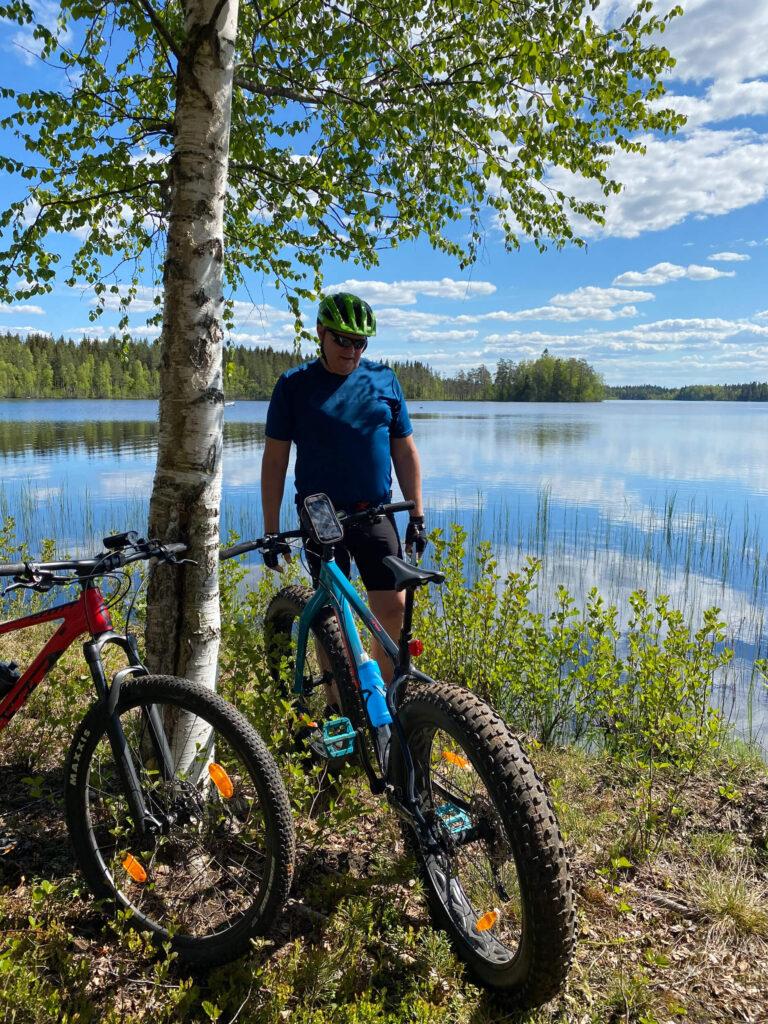 Without any severe gravity checks [cycling jargon for 'falling'] we make it back to the gravel road. My pulse starts dropping from around 160, and Harri encourages me to smell the scents of the forest. "It's something else," he says contentedly. At Lake Ojutjärvi, I am encouraged to take a sip of water, after which I get to try out the fatbike. The clumsy looking thing moves surprisingly agilely and lightly over roots. I am told that when five-inch tyres are filled to 0.7 bar, they provide just the right amount of shock absorption on uneven ground.
On the way back, we chat a bit about Harri's career. He started his career on the Lapuan Peruna side, but quickly joined the company to work with dryers, then in the warehouse and now as a wet process operator. When I try to press him for an answer as to why he has stayed with the company for more than thirty years, he lists as reasons the possibility of working independently and developing his own line of work.
Little by little the pace has accelerated and now my guide is heading to the Sámi-style hut of Sammalkivi. On the way, the path becomes wet and really, really soft. Harri, on his magical bike, flies over the soggy terrain while I get stuck in chain-deep mud. My heart is pounding, sweat is pouring and mud is flying. Can't give up now – and not just for the sake of pride, either. Put the weight on your feet and kiss those Converses goodbye because they will be forever lost in the deep Kauhava mud.
On the Vainionpää family's patio, we check out the official results: 16.86 km and 1h 19 min. In our case, the recovery process involves drinking a barley-based sports drink, going to the sauna and relaxing in a hot tub. Freshly made whipped porridge crowns the Ostrobothnian hospitality.
Harri turns out to be a very social guy. He says he joined Kauhava's MTB Club to have company when heading through rough terrain on his bike. Harri also talks warmly about his friends at Chemigate, and I get the impression that he has never had to feel lonely on his patio. Colleagues also know who to call when they have cycling-related questions or issues. Before I head home and leave Harri to choose between another beer and MTB Club's evening ride, it is time to decide who to challenge next. "Markku Nurminen's green fingers are legendary. I wonder if the story holds true that even the police have taken an interest in what he cultivates?"
Well, Markku, does it?