Chemigate Oy (Chemigate) is a Finnish company that produces and sells modified starches and starch based bio-polymers for technical use. Our key objective is to serve our customers with high-quality, ecologically sustainable product made from natural raw materials. Chemigate is committed to sustainability, high standards of business ethics and integrity as reflected in our values and environmental policy. The management and the personnel of Chemigate have worked together to document shared values that will work as guiding principles in situations where day-to-day work instructions and strategy fall short of providing all the answers.
Chemigate code and values
Chemigate shall comply with the laws of the applicable legal system(s) including local rules regarding environment, waste management, labor and safety. Chemigate shall conduct business in an ethical and sustainable manner.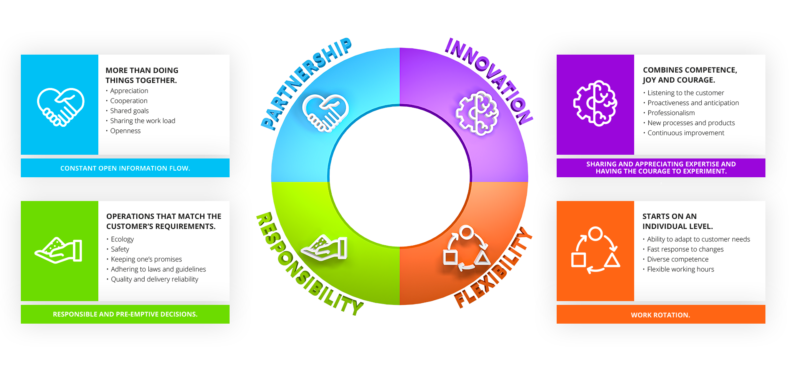 Labor and human rights
Chemigate complies with recognized international labor standards as defined by ILO and UN Global Compact. Chemigate uses no child or forced labor at any of its operations or activities.
Chemigate runs an active human resource policy. The HR-policy is updated regularly, and relevant changes are informed routinely. Chemigate upholds a social dialog within the workforce through development discussion and performance appraisals. Personnel briefings are held twice a year and job satisfaction is surveyed every other year. Chemigate values partnership which in this respect means taking care of the wellbeing of colleagues.
Environmental responsibility
Chemigate shall minimize the negative environmental impact on soil, water, biodiversity and air and demonstrates continuous improvement. Chemigate works towards novel ways of incorporating green energy in its processes and continuously follows up on its product life cycles. One of Chemigates values is responsibility which means that everybody in Chemigate is committed to being mindful on the environmental impact of our day-to-day activities.
Health and safety
Chemigate shall ensure the health, safety and security of employees, visitors and other people impacted by its operations. Partnership and responsibility mean that Chemigate is committed to providing instructions and training to ensure safe and effective handling of its products.
Ethics and economical responsibility
Chemigate tolerates no corruption or bribery in any form. Chemigate respects human rights as defined by the United Nations' Universal Declaration of Human Rights. Chemigate conducts sufficient risk management to ensure not only the safety of the employees but also continued operations during unforeseen events. Flexibility, one of Chemigate's values, comprises the commitment to job rotation and deputy systems. Chemigate protects confidential information of its partners and customers and respects others' intellectual property rights.
Social responsibility
Chemigate is committed to being a good corporate citizen and takes an active role in the local communities. Chemigate pays corporate taxes in the country which it is active in and uses no offshore accounts or other unethical tax planning tools.
Product safety
Chemigate is commited to ensuring the safety of its products in their intended use and the transfer of knowledge for the safe and effective use of Chemigate products.
Sustainable procurement
Chemigate expects all its suppliers to commit to sustainability and to adhere to similar good working standards and business ethics. The supplier is expected to comply with the requirements set out in this Chemigate's Code of Conduct. Chemigate conducts regular audits to ensure the adherence to the Code of Conduct.
Reporting channel for code of conduct violations
A third party may anonymously inform Chemigate's management of any suspected violations of the code of conduct without fear of repercussions. You do not need to provide proof to back up your suspicions, but all reports should be made in good faith.
Berner, our parent company, has provided the whistleblowing service we use as our reporting channel. In order to ensure anonymity, the whistleblowing service is provided by an external partner called WhistleB, Whistleblowing Centre. The reporting process is encrypted and password-protected. All reports will be handled confidentially by the WhistleB team assigned to Chemigate.
Go to the whistleblowing channel
Please note that this channel is not an emergency number. In an immediate threat to life or property, when you require emergency assistance, please contact your local authorities or call the emergency number 112.