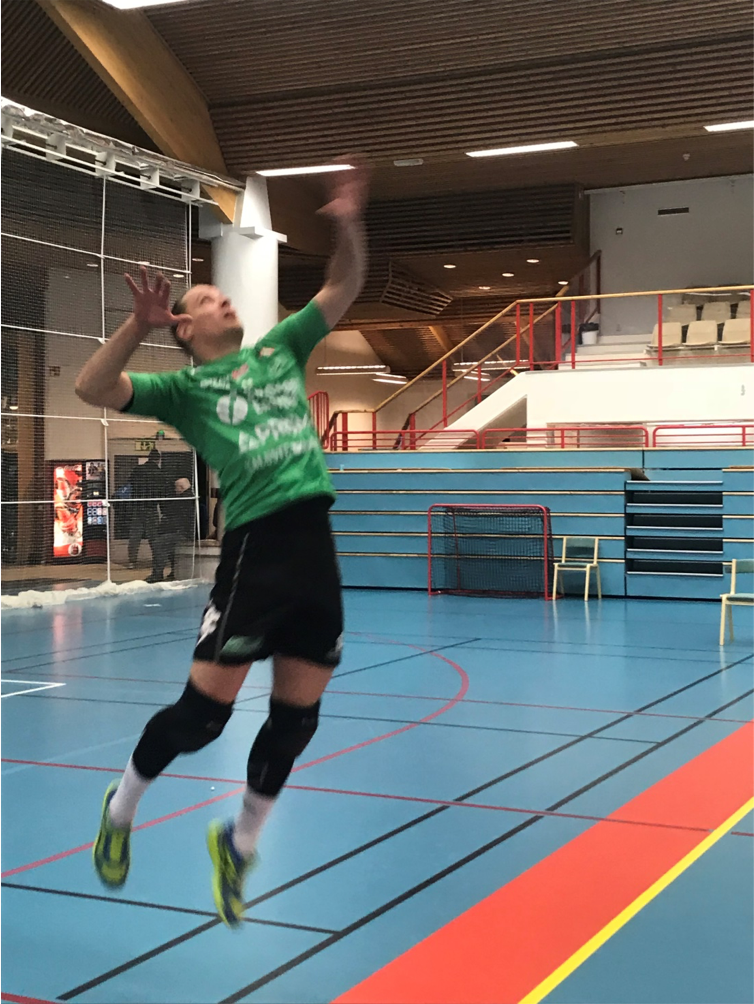 Imagine that you are in a locker room with your teammates. The atmosphere is calm and focused, perhaps also with slight nervousness. The coach sketches last-minute tactical instructions on the board, and your team captain gives a pep talk. Then it's time to huddle together for the familiar pre-match rituals. All is clear, ready, and simple. As one, the team walks out of the locker room, heading for the court, full of fighting spirit and ready to beat the opponent! I'm introduced as Chemigate Oy's sponsored player, and it's my turn to step onto the court. I want to give my best performance and help my team win!
But the first game brings some serious setbacks. We experience a couple of disputable calls by the referee, some bad luck, and a large number of unforced errors on our part. Things are not going according to plan. We lose the first game. Before the next one begins, our minds are buzzing with thoughts and observations on why we're playing so badly. What should we do differently? Why is the other team outperforming us? Emotions are running high. We have to get them under control and start believing we've got what it takes to turn this match around. We may have lost the battle but not the war.
Time for the second game. The team has cranked it up a notch. We're winning rallies now, and our game is back on track. All the pieces are falling into place. We are gaining confidence. Luck seems to be on our side too. We make easy work of the second game. We're on a roll – there's no stopping us now!
Welcome to my world. That's volleyball for you: one minute you're struggling and the next you're on top of the world. Because there's only one winner at the end of each rally, game, and match, each individual performance has a huge impact on the final result. In volleyball, you need to have an eye for tactics, good technical skills, and a cool head, requirements that make this an extremely challenging sport. In the course of a game, you run through the whole scale of human emotions more rapidly than ever in day-to-day life. And that's what makes it so fascinating.
For the crowds too, the games offer excitement as situations change rapidly. A team can lose its advantage in a blink of an eye. In volleyball, the game isn't over until the final whistle.
Chemigate Oy, from Lapua, has played an important role in making it possible for our team to play on the second highest league level in Finland. The company is my personal sponsor, and through this it offers support to the entire team. Launched in 2013, this collaboration provides an excellent example of the kind of support that enables us to carry on. On behalf of the entire team, I would like to extend my warmest thanks to Chemigate Oy and particularly to Tom Schauman, Manager of Business Operations, for the support.
Timo Alanen
Nurmon Jymy, Division 1 Men's Volleyball
TallennaTallenna