Finnamyl Group consists of Finnamyl Oy's plant in Kokemäki and Lapuan Peruna Oy's in Lapua. Together, these two facilities work with 360 contract farmers, who will deliver 170,000 tons of starch potatoes to the plants this fall, harvested from 6,000 hectares of fields. Finnamyl and Chemigate, which used to be part of the same group of companies, split off from their parent company to take their business operations in differing directions. While Finnamyl focuses on food-grade starches, Chemigate produces starches for technical applications.

According to Production Manager Tauno Henttinen, the total results forecast for the 2019 season look promising for both plants.
— We'd set our sights higher, but a dry and hot summer with very little rain in some areas affected the crop. Still, the organic crop will be surprisingly good, so we are happy with this fall's developments, explains Henttinen.
The facilities produce, in total, 40,000 tons of starch, with more than half going to Chemigate's plant, where it is used for technical applications. The remainder is delivered to Finnamyl for food-sector use.
Henttinen says that, thanks to the high quality of its products, Finnamyl has retained its foothold in the technical sector while increasing its share of the food-industry market, in which it is known as a flexible, responsible operator.
— The growth in the food industry comes primarily from exports, which now account for about 40% of our production intended for the food sector. We export to Russia, the United States, Germany, and several countries in Asia, which gives an idea of our capacity in this area, says Henttinen.
He points out also that Finnamyl has invested strongly in recent years.
— In 2015, we invested 12 million euros in potato protein separation and cell sap evaporation systems at the Kokemäki plant. Thanks to this investment, each year since the 2016 season has witnessed the Kokemäki facility produce 1,100 tons of potato protein, which is in high demand for feed. In addition, the cell sap concentration processes produce 6,000 tons of fertilizer for organic cultivation, eliminating the need to spread 75,000 tons of cell sap over the fields, which had some harmful effects, Henttinen elaborates.
— We also invested in a cell sap evaporation system for the facility in Lapua, in 2017. This investment is a great example of circular economy. It allowed us to reuse our still-functioning machinery that was made in Finland more than 30 years ago, he continues.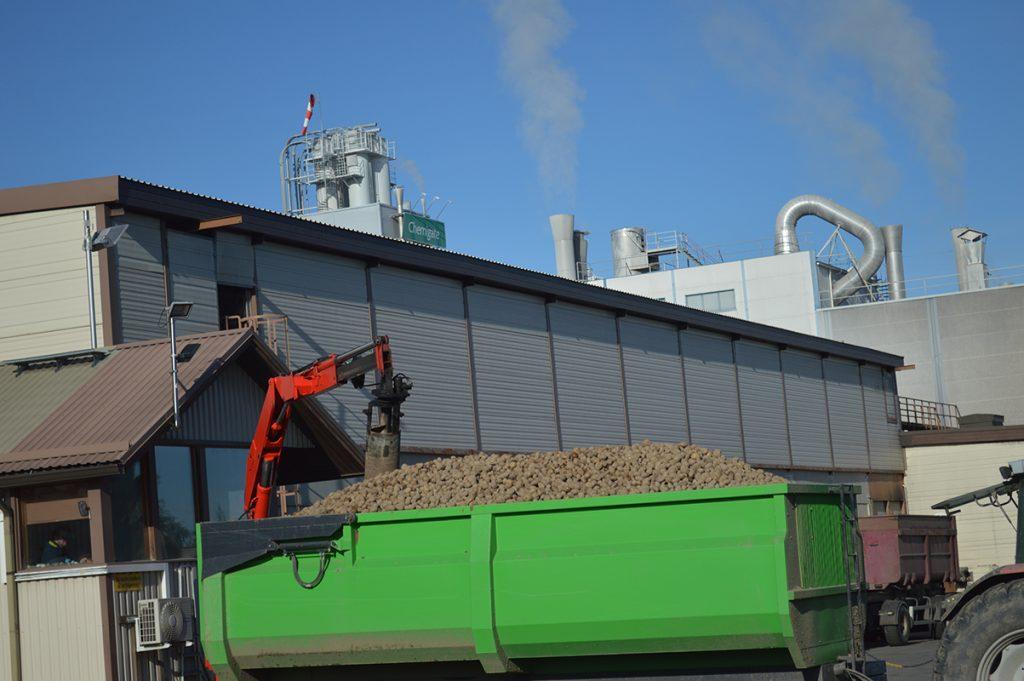 Over the current production season, the Kokemäki facility will continue its investments in the production of food-grade potato starch, and next spring will see Finnamyl carry out a test run of producing vegetable protein from fava beans for food-industry use.
— There is increasing demand for vegetable protein as a raw material among food-product manufacturers, both in Finland and abroad, Henttinen says.
While all its customers are important to Finnamyl, Henttinen particularly appreciates the collaboration with Chemigate.
— Similarly to Finnamyl, Chemigate is very development-oriented, which has, in turn, spurred us to develop our expertise in starch production. This, together with work alongside familiar people at Chemigate, has played a central role in maintaining the status of potato starch in technical applications, he says.
Potato starch as a raw material:
The long molecular chain and a composition that includes amylose and amylopectin result in exceptional calculated strength.
As a raw material that grows underground, the potato has not developed protective compounds, and its fat and protein content are low. The resulting ease of use is another clear benefit.
It gelatinizes well, doesn't foam, and does not undergo retrogradation at high temperatures
This pure raw material is suitable for challenging applications

Involving wet modification

It is the least allergenic option and also is gluten-free
Chemigate uses it for special paper types, for cardboard and similar products, and as a component in specialty chemical products
(Source: Maisa Kantola, Chemigate)