The Caverion team responsible for maintenance at Chemigate's Lapua unit received the global Golden Helmet Award for their occupational safety work. The reason for this accolade is an internationally remarkable achievement: there have been no occupational accidents at Lapua for 14 years.
Caverion has partnered with Chemigate for over 20 years, and maintenance of the Lapua unit has been outsourced to Caverion's team. The Lapua plant Operations Manager Janne Vähämäki explains that, in addition to maintenance and installation work, the team is responsible for occupational safety development together with the plant's personnel.
As a result, there hasn't been a single occupational accident for over 14 years, or 5300 days. This achievement did not go unnoticed by Caverion, which annually recognizes the company's accomplishments in various categories. The prestigious safety category award was given to the seven-person Team Chemigate Lapua.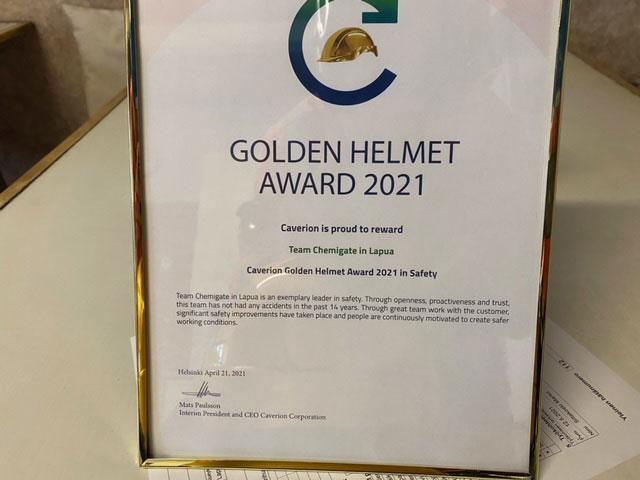 Safety is achieved by active and open cooperation 
According to Caverion District Manager Hannu Leppälä, the force behind these results is the uncompromising attitude of the entire team: "Each mechanic is fully motivated in their work and bears responsibility for their coworkers and the client." 
Chemigate Team Lapua Maintenance Manager Erkko Eklund emphasizes that the team's experienced professionals can recognize risks actively and expertly. Routines for their goal-oriented work include making continuous, regular safety-related rounds, reviews, observations and corrective actions.
"Chemigate personnel, all the way up to management, are also dedicated to improving occupational safety. They are cooperating actively and openly, and react positively to repair and investment suggestions. With a partner like this, it will be motivating to keep working with them in the future", Leppälä assures.