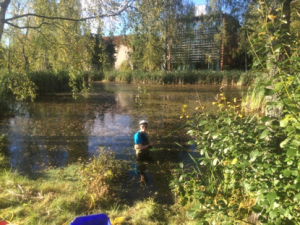 What are today's freshmen made of? Do they have any interest in the forest industry as an employer? Even though I'm just 23 years of age, as a fifth-year student I feel entitled to explore the issue through the eyes of an old hand. I was offered a perfect setting for doing this by the Ota Orienteering Race, an event arranged to provide Aalto University's new students with an opportunity to learn about Otaniemi's various student organizations while navigating their way through control points scattered about the campus and around the student housing.
It was only natural for me to take up a station at Aalto University's Forest Products Guild's control point, where the guild's board had created a "middle-of-nowhere simulator." When students move to the middle of nowhere for summer because of a temporary job, they often find that their leisure opportunities are restricted mostly to outdoor activities, with fishing numbering among the most popular pastimes available. However, on hot summer days this pursuit may expose the enthusiastic fisherman to dehydration, since lake water isn't safe to drink.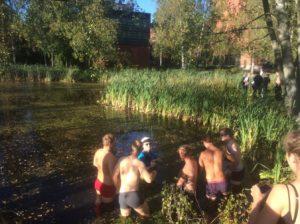 The freshmen were given the task of solving this dehydration problem by finding a way to deliver a refreshing beverage to the fisherman. A real technology student has what it takes to find a solution to any drink-related challenge, but are these newbies made of the right stuff?
Yes, they are. One freshman team after another came up with a unique and imaginative way of serving the much-needed refreshment to the parched fisherman. An old sleigh turned into a delivery vessel in the hands of some teams, while others utilized a boomerang. Apparently relying more on their plucky character than on their aptitude for technical innovation to complete the task, some teams simply stripped and waded into the water.
After proving their mettle in the challenge, the freshmen were surveyed about their views on the forest industry. I selected Aalto University's new process engineering students as my target group for this part of my study. These are the students who applied for Aalto University's Chemical, Biochemical and Materials Engineering program. For their bachelor's degree, they will mainly take courses aimed at providing them with a broad knowledge base before they can select specialist forest engineering courses as part of master's studies.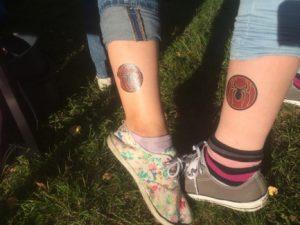 The process engineering students' replies were encouraging, from the forest industry's perspective. Of course, doing the survey at the control point run by the Forest Products Guild may have introduced a slight bias to the study, but it's still noteworthy that the majority of the interviewees considered the forest industry a potential career choice for the future. Several respondents said that their interests in the field of chemical engineering lay in renewable materials: "I'm interested in renewable natural resources and biotechnology." Others were still uncertain about their plans for the future, with their reasons for applying for the degree program ranging from "chemistry's more fun than physics" to "I wasn't accepted to study medicine." One respondent confidently told me that I was looking at the future head of forest-industry giant UPM. Maximum points for ambition and attitude!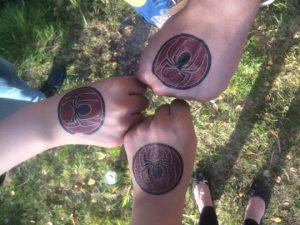 My confidence in the future was reinforced by a student who told me that she had watched documentaries on pulp online. She said the videos had led her to believe that the Finnish forest industry has a bright future ahead of it, spurring her to choose it for her field of study. Hanging my head in shame, I admit I've never looked up pulp-related videos on the Internet. Or any other in-depth documentaries in my field, come to that. I take my hat off to this freshman, who was clearly more enlightened than the undersigned or the majority of students writing their bachelor's thesis.
My informal survey proves that there's no cause for concern. Aalto University will produce enthusiastic and skilled experts for the forest industry in the future too. When students are interested in a topic, they will dig up information from all sorts of sources – online documentaries on pulp included. Freshmen are the future!