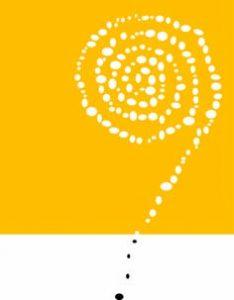 People often regard university studies as a series of sleep-inducing lectures and an endurance test on the student's part. These assumptions were proven wrong by Aalto University's Sustainable Global Technologies (SGT) Studio course, which took a few lucky students for several weeks in the rural village of El Veinte de Noviembre, or El 20. Our goal was to help the local Maya population in the development of an improved water supply and sanitation system and with creation of a foundation for good health care. You can find more information on this venture in our blog, at https://el20journey.wordpress.com/.
Offering a truly eye-opening experience, the trip provided me with enough stories to fill a book. In my role as Super-Techie, I will settle for sharing – through a blog article of reasonable length and with the assistance of photos – the six main thoughts, ideas, and revelations that emerged during the time in Mexico.
1. The friendly and hospitable Maya locals
As soon as we reached our destination, we were captivated by the warm atmosphere in the village and by its residents' friendly and open-minded attitudes toward us.
Everybody greeted us with a warm smile, despite our poor skills in the Spanish language – or perhaps partly because of them. One thing I learned about the language immediately was that to the local ear, unfamiliar as it is with double vowels, "Paavo" sounded like "pavo," Spanish for "turkey." On the plus side, no one forgot my name.
While we received a warm welcome from everyone, children and teenagers in particular were openly excited by our arrival. The lack of a common language didn't keep them from challenging us to a game of soccer time after time. Their excitement gave me first-hand evidence of how universal the sheer energy and joy of children is, regardless of life's material trappings. I may have even felt a twinge of nostalgia when witnessing these soccer games during school recess, in this day and age when students in Finland are more likely to spend recess on smartphones than running after a ball.
2. The Food
During our stay, we ate the same food as the villagers. This gave us a truly authentic experience! The food was tasty, but meals did start to feel slightly repetitive after a week. While their names varied, the only thing that changed in the meals was the way the flatbread was folded. When it was left open, the food was called a taco, and the bread was a tortilla when rolled. A dish with its flatbread folded in half was called an empanada or quesadilla.
The picture shows a chorizo taco I was served in Cancún. In Mexican cuisine, "taco" actually doesn't refer to a crisp, yellow U-shaped corn shell. The dish uses an open piece of flatbread instead. It seems that the Finnish take on Mexican food doesn't quite match authentic Mexican fare.
3G Hill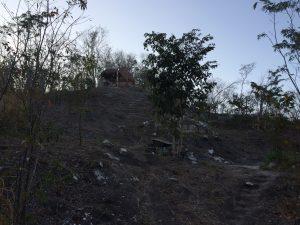 The digital revolution is slowly but surely reaching even the most distant corners of the world. It's mind-blowing that in a village where people struggle to gain access to health care, almost every household has at least one smartphone.
What makes this choice even more incomprehensible is that the village doesn't have network coverage. I'm not saying that Finns don't get their priorities all topsy-turvy, mind you. Thinking about such things, I, for one, have decided to make a change in smartphone use. From my experiences, I can say that an iPhone is as addictive as hard drugs, getting people hooked everywhere, irrespective of culture and even the availability of a network connection! I'm afraid that impromptu soccer games will soon be a thing of the past here too.
The picture shows a hill we dubbed 3G Hill because you could pick up a phone signal if you hiked to the top. Not that a large number of villagers mobbed this spot when daytime temperatures hit 35 °C. And neither did we, since surfing the Net with a Finnish phone would have coast an arm and a leg.
4. Coca Cola
Sometimes a picture really is worth a thousand words. Our host village, which suffered from water shortages, was regularly visited by a Coca Cola Company truck. Drinks produced by that company were the only ones sold at kiosks in the village. Some brands you just can't escape.
5. Tree-hugger(s)
Once a tree-hugger, always a tree-hugger. In keeping with the name of our program, the goal was to promote sustainable development. It was thrilling to be able to put into practice everything I'd learned through majoring in environmental management! Our project was fruitful: we managed to carry out water-quality analysis in the village and create eco-tourism concepts to generate funding for health care.
However, the trip didn't turn me into a full-blown tree-hugger or convince me to go back to nature. Showering in cold water with the help of a bucket with ladle and sleeping in a hammock the local way were, without a doubt, memorable and valuable experiences, but they aren't what I see myself doing in the long run.
6. The Chemigate Power Bank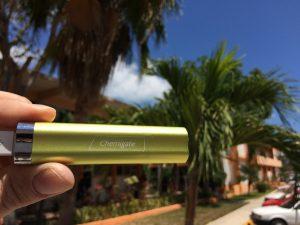 Of course, a Chemigate power bank accompanied me on the trip. During my stay, it supplied energy for my phone just as I hope I have succeeded in offering new energy to my readers in these 12 Super-Techie articles.
With some sadness, I'm now hanging up my Super-Techie cape to move on to new challenges. The next step for me is to complete my master's degree, for which I need to take a couple more courses and complete the main endeavor, my thesis project. The topic of my thesis is the use of roach, a fish that is underutilized in Finland. I'd be more than grateful for any thoughts, ideas, and experiences related to this topic that you may have.
Thank you for this year! Special thanks to everyone who has read these articles.
– Your Super-Techie
Paavo Vallas