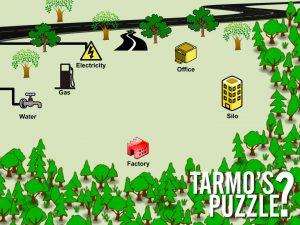 PULMA: Chemigate recently established a new processing plant in Posio, near Kuusamo, and now the new buildings (the office, silo, and factory) must be connected to water and electricity sources along the edges of the plot. The factory also has its own gas container. For production to kick off and money to start rolling in, each of the buildings must be connected to the public utilities.
Solution for Drawing the Pipeline
This is a traditional puzzle with one cross-over as the minimum solution (a solution without cross-overs has been shown to be mathematically impossible). In the normal solution model, one of the "outer" connections (water or electricity in this case) is designed to run to the target location from behind while the other such connection runs around the middle connection, crossing over it in the center of the area. Since the puzzle states that the electric cable must not run across either of the two pipes, the only option is to lay the electrical cable to run from behind the building, with the water and gas pipes crossing each other.