When I started high school, I had no clear idea of what I wanted to study after taking my final exam. At high school, I was interested in chemistry and biology, and, after looking through the course selection offered by various institutions of higher education, I decided to apply to study bioproduct technology at Aalto University (at the former Helsinki University of Technology). The course offered an opportunity to have a positive impact on the world, which appealed to me. The course description didn't feature the word "paper" or "pulp," even though in practice the study program is a degree course in forest‑products technology, just in new packaging. This fact only became apparent to me once I started attending classes and chatted with the more senior scientists.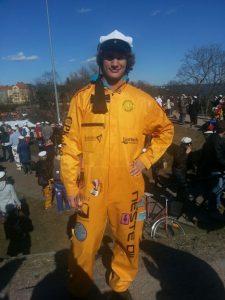 I got over my surprise about the content of the course, but Aalto University's next study reform caused me a bigger headache when the chemical engineering, bioproduct technology, and materials engineering courses, offered by the School of Chemical Technology, merged at the beginning of 2013 to form a single program in chemical, biochemical, and materials engineering. I began my studies in 2012, and this reform meant that most of the classes were held for the last time that year. Failing a class was not an option. No pressure at all, then, for a young man who had just left the nest and was faced with fending for himself for the first time ever…
Bearing this in mind, it's not surprising that I've been less than enthusiastic about Aalto University's recurrent study reforms. A study program in chemical, biochemical, and materials engineering still sounds like a bad joke to me. I know that as an eager student fresh out of high school, I wouldn't have opted for a study program with a name like that, however high the quality of the teaching and the university.
It would be easy for me to slam the changes at Aalto University in a manner borrowed from Donald Trump: paying no regard to facts. That, however, would benefit no one, so I posted a request for opinions and information on the Forest Products Guild's Facebook page.
One of the guild's former chairmen provided an enlightening comment, saying that Aalto University didn't have a monopoly on study reforms and changes that slow down the completion of one's studies. Rather, these were part of a general trend across Finnish universities.
"During my studies, which took 'only' six years, Aalto University changed its degree system twice."
– a comment on Facebook
The commenter stated, "For example, at Lappeenranta University of Technology, the teaching on packaging technology was made part of the degree program in mechanical engineering. And Oulu University's Faculty of Technology offers training in bioproduct technology as part of process engineering, but there are very few classes on the subject."
"I, for one, find it disappointing that I've only been able to take two classes (for 10 credit hours in all) in paper technology or mechanical forest‑products engineering. It's annoying, knowing that in the past I could have taken more classes on a topic that interests me, enabling me to gain more in-depth knowledge of it. The current courses only scratch the surface," the comment continued.*
"The goal for a university is to teach the students how to learn."
– a comment on Facebook
As a result of the degree reforms, students have less opportunity to specialize. In the new chemical, biochemical, and materials engineering program, all students pretty much take the same classes until they've earned their bachelor's degree (180 credits). It's only during their master's studies (120 credits) that they can begin to specialize.
But a coin has two sides, as Laura Lundell, a recent Aalto University engineering graduate, pointed out in her comment.
"For me, university education was about gaining a broad knowledge base. When I applied to study wood‑product technology, I had no idea what I wanted to do for a living."
– a comment on Facebook
She wrote, "The goal for the degree reform is to radically reduce the number of bachelor's degree programs in Finland. Applicants won't have to choose a degree program to apply for from among 1,400 options; instead, students will only select their specialist field after a couple of years, when they are in a better position to make the decision."*
For applicants who are not certain about the exact subject they'd like to specialize in, it may be easier to pick a broader field and select a specialization later. On the other hand, students who know exactly what they want to do will have to take 180 study credits' worth of more general classes before they can focus on a narrower field. This may have an adverse effect on their motivation levels. The reform's impact on the number of students dropping out and the length of studies remains to be seen.
In addition to individual students, these changes affect the forest industry on the whole, since it is constantly in need of new experts. According to rumors circulating on Facebook, various operators in the industry are concerned that the number of skilled paper‑ and pulp‑industry engineers will soon drop too low. Lundell has a good point to make with regard to these concerns.
"Now industry is complaining that skilled paper‑ or pulp‑industry engineers are hard to find. They should take a good, hard look in the mirror, because they are the ones who lobbied for more focus on biotechnology."
– a comment on Facebook
She says, "The paper industry has expressed concern over a looming shortage of specialist students, but I'm in favor of a more general university education. The goal for the education is to provide us with good scientific background knowledge that enables us to become experts in any field we decide on. Education that is too specialized only provides training in a single field, restricting graduates' career opportunities. I believe that the new study program will also produce good engineers for the forest industry, even if they won't come out of the university knowing everything. This will serve to emphasize the role of learning on the job, both in summer jobs and after graduation."*
There's plenty of truth in that; university studies should help to build a foundation from which graduates can continue in any direction they like. I found several encouraging stories among the comments. An engineering graduate who had majored in pulp technology explained that on the strength of his minor subject and extracurricular activities, he landed a job at an engineering company specializing in building‑services engineering.
The most inspiring story was shared by Aleksanteri Negru-Vode, who had completed the old forest‑products technology program:
"The old program too offered students plenty of freedom of choice and allowed them to try things out. I got a minor in business studies and even wrote my thesis on my minor subject. Somewhere along the line, I became interested in the realization of digital services and learned to code. Today, I write code for data‑collection applications for industry, a job I really like. The most important things I learned at college are all things you can't look up on Wikipedia, such as how to work as a member of a team, give presentations, search for information, and do networking.
I hope that students are encouraged to study a wide range of subjects also in the future. This, I guess, was one of the main ideas behind the decision to merge three separate universities to form Aalto University. You gain in-depth expertise as a byproduct of your existing interests, once you know what is out there to become interested in."*
Negru-Vode's story makes me feel confident about my own future. I don't know yet what I'll be doing in two or five years, let alone ten. But my next goal is to graduate by the end of 2017. It's impossible to foresee the future beyond that, but I take heart in the knowledge that a curious and hard-working engineer will always have plenty of options for forging a solid, individualized career path. To quote the Finnish artist Cheek, "The sky's the limit but a man has walked on the moon too."
– Your Super-Techie Paavo Vallas
* I have edited the extracts for length and style, to make them suitable for this blog.